DEIRDRE C. STAM, DLS, ASSOCIATE PROFESSOR
CURRICULUM VITAE OVERVIEW
The Palmer School of Library and Information Science
Long Island University
Manhattan Location at New York University's Bobst Library


Deirdre C. Stam is currently on the faculty of the Palmer School of Library and Information Science of Long Island University where she directs the Rare Book and Special Collections concentration. This program is taught at the
Palmer School's Manhattan site
(http://dlib.info/palmer-manhattan/) at New York University's Bobst Library on Washington Square. Dr. Stam is also founder and Executive Director of the
New York Center for the Book
(http://newyorkbooks.org/), an affiliate of the Library of Congress Center for the Book.
Dr. Stam's research interests currently focus on education for rare book librarianship, on the book culture and history of upstate New York in the 19th century, and on the history of polar exploration. Previous publications and projects have dealt with issues of art historical librarianship, cooperative models for web-based information sharing, and library preservation. She has authored over fifty publications consisting of articles, books, and an exhibition catalogue. Dr. Stam has spoken widely both in the U.S. and abroad, having lectured in Canada, China, Cuba, Denmark, England, Ireland, Japan, and Scotland.
Dr. Stam received her B.A. from Radcliffe College, Harvard University; an M.A. from the Institute of Fine Arts of New York University; an M.Ed. from The Johns Hopkins University; an M.L.S. from The Catholic University of American; and a D.L.S. from the School of Library Service, Columbia University. She has held a variety of curatorial, library, and information technology posts at the Art Institute of Chicago, the Metropolitan Museum of Art, SUNY Purchase, The Cooper-Hewitt Museum, Drew University, and Syracuse University, the Museum Computer Network, and the Bibliographical Society of America. She has served as full-time faculty member in school of information science at Catholic University, Columbia University, Syracuse University, and the Palmer School of Long Island University. Dr. Stam has served on boards and councils of the Art Libraries Society of North America, the Art Association of America, the American Printing History Association, the Bibliographical Society of America, and the Frick Collection. Her interests include ballet and modern dance, theater, and music. She just recently packed away her bassoon after a four-decade career of avid amateur performance. She divides her time currently between Syracuse, New York, and New York City.
Deirdre C. Stam's Complete Curriculum Vitae
(http://newyorkbooks.org/stam/stam-cv.htm)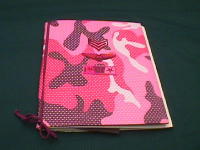 The illustration above represents work by students in the course on Artists' Books in the Library.
page last updated 3/5/06